"We had an unbelievable time – the kids were glued to their seats – Michael you were great!"
Beth S. – Beverly Hills,
Have A Magical Party To Remember Forever!
THE KIDS ARE THE STARS OF THEIR VERY OWN MAGIC SHOW!!!
Not Your Usual Kids Magician!
…Imagine a show filled with laughs, interactivity, magic and comedy; complete with prizes and a magic lesson for the audience!
My signature kids show fits well into almost any environment and is completely self contained: living room, school classroom, restaurant party room, backyard, etc. I bring everything I need to perform including a state of the art sound system, my own special tables, and all props. There's even an option to add a professional
*With select packages.
"You gave a stunning performance! Thank you so much. You made our son Jamie's birthday one that his friends will be talking about for a long time. I'm still trying to figure out the how you did any of it myself. Great job, very fun! And what a way you have with the kids."

Cindy H. – Orange County, CA
"So sorry we didn't say good-bye today. We got caught up in serving cupcakes. The kids – and us – LOVED the show! You were fantastic! In Talon's words …so awesome! Thank you so much for making our boy's day extra special. All the very best.

Deven and Kevin – Malibu
---
Interactive, Custom Magic! Amazing Birthdays and Events with Top Rated Southern California Magician Michael Stellman!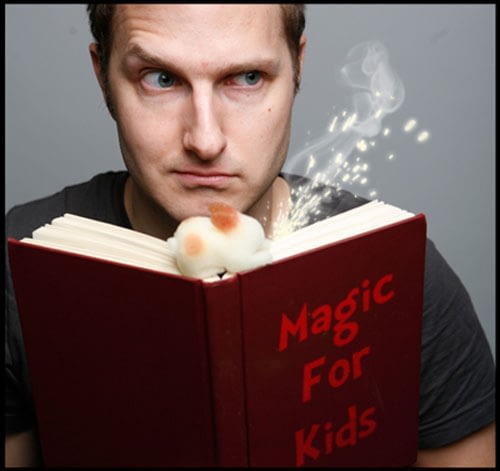 The show itself is a HILARIOUS, fast paced, audience participation magic show, complete with elements of comedy, fun, and TONS OF SURPRISES!
Most importantly, my signature magic show is extremely interactive with lots of volunteers from the audience and plenty of participation! And of course special attention is given to the birthday boy/girl, guest of honor, and siblings/best friends/cousins. Furthermore, no one just sits there – everybody is engaged and participating the entire time!
I always encourage parents and older siblings to watch the show because I guarantee they will have just as much fun (if not more . . .) than the kids!

PRIZES! = Michael's Deluxe Magic Show comes with PRIZES for the entire audience – A REAL magic wand that they get to take home!

A GROUP MAGIC LESSON: At the end of the show, the birthday kid gets to come up once again – this time to help teach everyone a magic trick that they can do right away with their magic wands!

Extra Special Signature Comedy Routines added to the show that have been designed just for kids and family audiences (though the parents have just as much fun watching, I promise!)
---
If you're looking for an experience children's entertainer, make sure you ask the following questions:
Do they have a ton of experience performing magic families and children. (Find out more about Michael's performance background.)

Can they describe their show in detail?

Do they perform all over Southern California? (Michael goes anywhere, a small travel fee may apply to very far away places)

Do they provide all their own equipment, including table, all props, state of the art sound system, microphone (if neccessary), etc.?  A professional backdrop can be added as an option as well!

Do they off a 100% money back guarantee? (If you are unsatisfied for any reason, you won't pay a thing.)